Keep on your Feet strength and balance classes
Strength and balance classes in the Bay of Plenty
Live stronger for longer with an ACC and Sport Bay of Plenty approved strength and balance class
Sport Bay of Plenty is part of an exciting project supporting community group strength and balance classes for older adults across the Western and Eastern Bay of Plenty. This is part of a nationwide initiative to reduce falls and fractures and support older people to 'live stronger for longer'.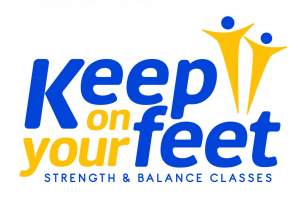 Why strength & balance classes?
Research shows that older people with muscle weakness, balance issues or mobility limitations are 3-5 times more likely to fall in any one year than those without these problems. There is also evidence that community group strength and balance classes can reduce falls by 29%.
Falling over and losing your strength and balance shouldn't be considered a natural part of ageing. In actual fact, improving your strength and balance is considered to be one of the most modifiable risk factor with regards to having a fall.
It all comes down to 'use it or lose it' and the classes that Sport Bay of Plenty is helping co-ordinate will involve simple but effective exercises that will improve leg strength and also challenge participants balance in a fun and safe environment.
For more information about preventing falls and how to make your home 'fall-proof' go to www.livestronger.org.nz
Instructors Needed!
We're training volunteers, exercise instructors, community groups, church groups, activity coordinators or residents at retirement villages in how to lead strength and balance classes.
Information about becoming a Keep on your Feet instructor
If you're interested in offering a strength and balance class in the Eastern or Western Bay, or if you would like to be trained up as a strength and balance instructor, get in touch:
Rachel Garden - Community Programmes Project Leader
021 191 6544
rachelg@sportbop.co.nz

What are the benefits of attending a strength and balance class?
Maintain your independence
Decrease your risk and fear of falling
Maintain or improve your movement confidence
Maintain or improve your ability to do everyday activities such as getting out of a chair and climbing stairs
Meet new people, while improving your strength and balance in a fun and friendly environment.
Strength & balance classes frequently asked questions:
What will the classes involve?
Classes will be developed to suit a range of abilities and ages – so whether you are 65 or 95 you will benefit from attending. As well as including a range of exercises that will help improve your strength and balance the classes could also include some gentle exercise to music, exercises to help your core strength, fun activities to improve your balance and stretches to help with your flexibility.
Will I have to wear lycra or special clothing?
No, unless you want to of course! Comfortable clothes that you can move in, and flat, comfortable shoes is the only pre-requisite.
Will I keep up?
The instructor will be able to adapt the exercises to make them easier or harder to suit the participant – so yes, you will be able to keep up! Although these classes may make you breathe a little harder, they won't involve any exercises that could do you harm.
Who can attend a class?
Anyone over the age of 60 years who wants to maintain or regain strength and balance.
How much will it cost?
The cost of the class will depend on who is taking it and where it is being held. As a general guide most classes will cost between $4-$10. See class details below for more information.
Where are the classes?
Strength and balance classes are going to be set up all around the Eastern and Western Bay of Plenty. New classes are being set up all the time, if you could like to know when a class is starting in your area then fill out the contact for to your right.
Have a question? Contact our Project Leader on the form below:
FIND OUT MORE