Terms of Involvement
2022 Terms of Involvement
All those involved in school sport (students, teachers, coaches, officials, spectators) have the right to enjoy their sport in a healthy positive environment, which values above all else, respect for fair play principles in sport.
Players, coaches and supporters are reminded that the highest levels of sportsmanship, fair play and conduct are expected in relation to opposition players, coaches and officials. This constitution is the basis of the policy and guidelines to protect the above. Please complete the below form to show you understand these Terms of Involvement. If you're looking for further information about way to encourage a positive sporting environment, then check out Balance is Better resources.
Our role
The Regional Sport Director's (RSD) role is an initiative which is supported by Sport New Zealand, the New Zealand Secondary Schools Sports Council (NZSSSC), Sport Bay of Plenty and secondary schools in the BOP Region.
Sport Bay of Plenty manages the Regional Sports Director contract in the Bay of Plenty region. The responsibilities of which are split between the School Sport Team Leader (Influence and Advocacy) and the Regional Secondary School Events Director (Events).
We work with schools to:
Provide quality sport opportunities in the secondary school context for secondary school age students.
Improve the quality of sport and recreation provision in schools.
Increase opportunities for students to be involved in sport and recreation.
Promote the ethics of FairPlay.
Facilitate programmes to upskill officials, coaches and administrators.
Promote collaboration between schools and community sport and recreation providers.
Facilitate inter‐school competitions and tournaments.
Click here to view the members of the Principals Management Group.
BOP Secondary School Sport Vaccination Mandate Update for School Sport – March 11th
Dear students, staff, family members, partners and supporters of BOP Secondary School Sport,
Sport Bay of Plenty and the Secondary School Sport Principal Management Group are excited to confirm BOP Secondary School sanctioned events will be open to all secondary school students from 11:59pm, 12th March 2022. This follows the Government's announcement that secondary school students will be able to participate in all school-based teams and groups regardless of their vaccination status, and the necessary implementation of Primary Health Order legislation changes.
Under the legislative changes, secondary school students cannot be denied entry into school-based sport activities (curricular or extra-curricular) based on their vaccination status. School sport is still, however, subject to the gathering limits of the Covid Protection Framework. Under the Red setting, gatherings are restricted to 100 people in a defined space (provided adults have My Vaccine Passes). We continue to try and modify BOP Secondary School sanctioned events to allow as many students' entry as safely and practically possible.
Workers and volunteers (including event coordinators, school staff and spectators where practically appropriate) will still be required to hold a valid My Vaccine Pass to be associated with any BOP Secondary School sanctioned event. At some events (specifically indoor events), spectators may not be permitted to ensure as many students as possible can participate and we comply with Covid Protection Framework gathering restrictions.
Please note the change in legislation does not allow unvaccinated students to participate for club and/or community-based sports teams. Sport BOP and the Principal Management Group understand this will create difficulties for students who need to play for club or community teams to access sport and we will endeavor to work with our partners to improve accessibility.
Ngā mihi,
Sport BOP and the Principal Management Group
Meet the team
Calvin Buttimore
Active Young People Team Leader
021 841 856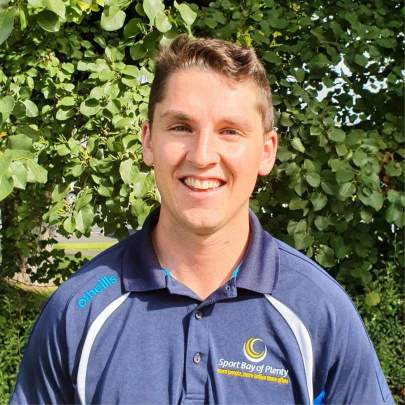 Luke Frame
Rangatahi Regional Schools Director
027 867 5840
Haka Educational Tours is Sport Bay of Plenty's preferred supplier and partner for overseas school sports trips. They look after trip itinerary planning, documentation, bookings and ground support, offering an unparalleled comprehensive service tailored to each school's desired destination, goals and objectives. Get in touch with them for an obligation free quote for your next sports tour.
www.hakaeducationaltours.com/sports-tours
Find Out More