Sport Bay of Plenty is proud to be managing the Tū Manawa Active Aotearoa fund
on behalf of Sport NZ in our region
About the fund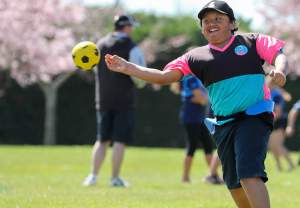 Tū Manawa Active Aotearoa provides funding for programmes or projects delivering play, active recreation and sport experiences for tamariki and rangatahi. These may be new or already operating.
The Tū Manawa Major Fund and Fast Fund are now closed.
Aims of Tū Manawa Active Aotearoa
Research shows some groups are more at risk of missing out or face barriers to being active. The groups include:
Young people who experience high deprivation
Young people with disabilities (aged 5-18)
Young women aged 19-24
Programmes or projects that reach these groups will be prioritised for funding.
Funding available
Fast Fund
Funding up to $15,000 per project or programme
The Fast Fund is now closed for 2021-22
Suitable for supporting programmes or projects with equipment, transport to venues etc.
We are no longer accepting applications for the Fast Fund as we have allocated our predetermined amount for the 2021-2022 financial year. Please contact our team via tumanawa@sportbop.co.nz if you have any questions. We apologise for any inconvenience caused.
Major Fund
Funding up to $40,000 per project or programme
Expressions of Interest for the Major Fund are now closed.
The Major Fund is targeted at larger scale projects
Applicants who have submitted a successful Expression of Interest are still able to complete a Major Fund application via the link emailed to them.
Who can apply?
Your organisation must be a legal entity to apply for Tū Manawa Active Aotearoa.
Examples of who can apply
Hapū, Iwi, Marae, Māori organisations
Primary/Intermediate schools/Kura
Secondary schools/Wharekura
Tertiary Education/Whare Wānanga
Charitable Trusts
Regional or Local Councils
Incorporated Societies
For-profit businesses/commercial organisations and social enterprises
Examples of who cannot apply
National organisations who already receive Partnership Investment from Sport NZ
Government agencies and their regional branches (e.g. Ministry of Health, Oranga Tamariki)
Early Learning Services
Professional or semi-professional sports teams and organisations
Individuals
If you want to apply but do not have legal status, we recommend you consider partnering with a qualifying (legal) entity.
Find out more about who can apply and check your eligibility with our online questionnaire.
More information
Questions?
Please complete the form below and one of our team members will be in touch shortly. Please note, our team experiences a high number of requests and is therefore limited in how closely we can work with each applicant.
* = Required Field