Tom Elvin (Chairperson)
Tom is a partner at local law firm Mackenzie Elvin, working in the fields of general commercial work, commercial property and construction.
Tom was previously involved in rugby, playing, coaching and refereeing at various levels.
Tom believes that sport and physical activity play a vital role in both day to day living and how a healthy community function. He is excited to serve on the Board of Sport Bay of Plenty after attending a number of the programmes and events it ran in his youth.
Tom has been a member of the Sport Bay of Plenty Board since June/July 2017 and became our Board Chairperson in 2019.
Shirley Baker
Shirley has always been involved in sport as both a competitor and as a coach. She was Chair of Netball Bay of Plenty for five years and a Director of Waikato/BOP Magic until both entities were restructured from Regional to Zone entities last year.
Shirley currently sits on the new established Bay Venues after four years on Tauranga City Aquatics Ltd (TCAL), the last three years as the Chairperson.
Shirley believes that, "Sport plays an essential role in life and for kids it teaches them discipline, teamwork, respect, fun, enjoyment, healthy options and so much more. The benefits are numerous for the community as a whole and I am passionate about getting as many people involved in sport and recreation, and enjoying it."
Shirley lives in Tauranga and joined the board in May 2014.
Vaughan Bidois
Vaughan lives in Tauranga, but works in Whakatane as a Senior Lecturer and researcher for Te Whare Wānanga o Awanuiārangi.
Vaughan is currently conducting a scoping project, exploring the contribution of sport to the health and wellbeing of indigenous communities in both Australia and New Zealand. Vaughan believes that sports clubs play an important role in shaping positive and productive communities, and have a significant impact on the wellbeing and cohesion of all sectors of our society.
Vaughan comments "I am extremely humbled to be a part of a talented group of Board members, and look forward to contributing to the goals and aspirations of Sport Bay of Plenty."
Vaughan has been with the board since July 2016.
Richard Gee
Richard has been a sports fanatic since a young age; firstly as a competitive rower, then as a rowing coach and rowing administrator. More recently he has indulged his competitive nature, competing in motor racing.
Richard has an in-depth view into the work of high performance sport after a role as Communication and Sponsorship Manager for Rowing New Zealand, and as a coach, mentor and athlete.
Further to this, Richard has worked as a volunteer coach and administrator in a variety of sporting spheres, and understands the importance volunteers play in ensuring sport and activity is a priority in New Zealander's lives.
Living in Whakamarama, Western Bay of Plenty, for more than 10 years since emigrating from the UK, Richard joined the board in January 2017.
Brian Pointon
Brian retired in 2017 after 38 years as a public health manager focusing on disease prevention and healthy lifestyle behaviours. The last 22 years were in the Bay of Plenty, living firstly in Whakatane and now Tauranga. Brian also has executive and governance experience in the NGO health sector.
Brian has enjoyed sports from school days to the present. These have included cricket, hockey, table tennis, lawn bowls and indoor bowls, representing Tauranga in cricket, hockey and indoor bowls.
Brian has also been involved in sports club administration, and is currently Vice-President of Tauranga Indoor Bowls Association.
"I see my contribution to Sport Bay of Plenty as being a link between the health and sports/recreation sectors. Sport and activity programmes at all ages and abilities play an important role in maintaining wellness and social linkages."
Brian joined the board in September 2017.
Casey Treanor
Casey is born and raised on the shores of Lake Rotorua and has been actively involved in sport as both a player and coach.
Of Te Arawa descent Casey now works as a solicitor in Rotorua specialising in both Criminal and Māori Land Law.
Casey continues to play and coach Hockey as a coach of the New Zealand Under 21 Māori Woman's team while also playing at local intercity level.
Casey believes that sport is an activity that brings communities together. Sport teaches our rangatahi important life skills that will continue to support them through life. Such as goal setting, timeliness and overcoming obstacles to achieve a common goal.
"Whāia te iti kahurangi, ki te tuohu koe, me he maunga teitei"
Seek the treasure that you value most dearly, if you bow your head let it be to a lofty mountain.
Sarah Elliott
Sarah comes from a long line of sportspeople and has participated in Netball, Swimming, Athletics, Hockey and Squash. She settled on Gymnastics where she became a Junior International for Great Britain.
Before moving to New Zealand 20 years ago, Sarah was in the commercial world as a Commercial Manager and International Sales Director. In New Zealand she has held positions of Commercial Manager and Chief Executive Officer of a National Sports Organisation.
Based in Tauranga Moana, Sarah's current role is with Whānau Āwhina Plunket as Regional Grants Manager, raising funds across the top of the central north island. She is also a Director of Ultimate Herbal Health, a natural health company supporting lifestyle changes to those with Metabolic Syndrome.
As a volunteer and administrator Sarah is passionate about the impact sport and physical activity has on communities and gives back to any oganisation who feels her knowledge is useful. Sarah was President of Te Puke Gymsport where she led strategic, operational and financial planning and the development of a new facility for Te Puke Gymsport.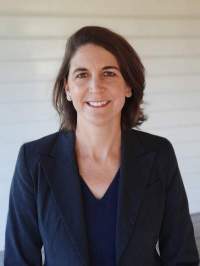 Aimee McGregor
Aimee sees recreation and activity as key to individual and community wellbeing. The fabulous recreation opportunities that Rotorua's lakes and forest provide was the primary motivator to move to Rotorua 17 years ago. Aimee and her whanau are involved in mountain biking, BMX, basketball, running, walking and boating.
Aimee became the Club President at Rotorua BMX in 2019 after joining a project sub-committee several years earlier to deliver the new world class BMX facility they now operate from. She is very keen to see as many tamariki and rangatahi participating in BMX as possible and the club is working with schools and youth trusts to achieve this.
Aimee works for Rotorua Lakes Council as the Programme Director for the Community Wellbeing Group. In her role she leads community facility and place-making projects, many of which offer opportunities for activity, sport and recreation, such as the Lakefront Redevelopment and the Aquatic Centre upgrades. Prior to working in local government she worked in the corporate sector for an international consulting firm, Fonterra and SCA Hygiene across strategy and project initiation and delivery.
Aimee joined the board in March 2022.
Jeremy Mihaka-Dyer
Jeremy grew up in Invercargill, currently lives in Taupo and has two grown children. He is a Partner and the CEO of consulting firm Navigator Limited, a social and cultural development firm that focuses on supporting organisations translate strategy in to sustainable operations across the Social Sector (housing, health, Iwi development, Whanau Ora, education and not for profit).
Prior to joining Navigator, Jeremy spent over twelve years as a Chief Executive; first of Lake Taupo Primary Health Organisation and then Tuwharetoa Health Charitable Trust. He is a past Board member of the Rotorua Chamber of Commerce and Primary Health Organisations of New Zealand, and a current member of the New Zealand Law Society Standards Committee and Pathways New Zealand.
Jeremy is an amateur but keen sportsperson (cricket, basketball, running and mountain biking), is a past Treasurer of Lake Taupo Cricket Inc and current Chair of Lake Taupo Basketball Association.
Jeremy joined the board in March 2022.
Matt Hill
Matt joins the Board with over 25 years of senior management and oversight experience working in the infrastructure, horticulture, sport and logistics sectors. Matt brings specific skills in effective governance, people development, operations, supply chain, organisational change and strategic planning.
Matt is involved in playing, supporting and coaching a wide range of sports in the region including cricket, tennis, football, triathlon, ocean swimming, hockey and mountain biking.
Matt believes that sport and participation in physical activity is one of the key drivers of improved mental and physical health and well-being outcomes for our people and diverse communities.
Matt joined the board in March 2022.